Guided ColorAlchemy Training DVD
Vitality - Creativity - Power - Love - Focus - Intuition - Bliss

About | Benefits | BONUSES on DVD | Live Trainings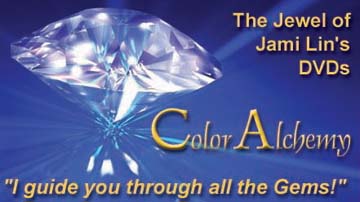 Self mastery with the endless supply of color
has never been easier.
Put your feet up, listen and watch Jami Lin teach you.
Unless you can experience Jami Lin live...

This is the gem of her video presentations!

Experience Jami, one-on-one...
as if she was sitting next to to you.

This DVD is a full color, fully automated
PowerPoint presentation with
over 185, beautiful full-color slides imbedded
with Jami's motivation and loving teachings.
Because some people can't always attend ColorAlchemy trainings around the country, I created a 4 hour training DVD as if you were taking a workshop with me!

Listen to me teach you everything that's in the ColorAlchemy book and E-Triumphs as you watch the beautiful automated slides.
DVD includes guided ColorAlchemy meditations,
breathing exercises, ColorAlchemy movement and more!

I also include surprises, such as my favorite insights
and secrets, that I only share during live classes.
You don't have to read, just watch the beautiful slides and listen to life-transformational ColorAlchemy

You can start and stop the DVD according to your schedule (or even on each Daily Color & Daily Chakra!)

Discovering and...
Making the TRIUMPHS YOURS
has never been easier!

Included BONUSES
ColorAlchemy E-book

28-day ColorAlchemy Triumphs

Audio Introduction

Chakra Dance: audio impressions of Chakra movement

Feng Shui Home Study Mastery Certification Sample

Feng Shui "secret cure" Sample

Chakra Mediation Music - Marilyn Seitz at

MoonGateMusic.com

Marilynn, thank you for the tracks from Voices in the Light for the ColorAlchemy Training and for sharing "Interlude" (with the musical keys that correspond to the seven Chakras) from Feathertouch.

Your beautiful Chi out of your music!

4-Hour Training DVD

$99
email for int'l s/h

add 6 Hours of
LIVE
ColorAlchemy Training
in 2 DVD's

Only $18 More!

please email for int'l s/h



Order NOW in 100% Confidence with

Pay Pal